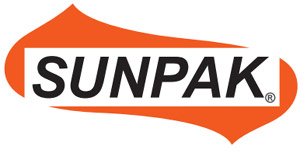 The Sunpak® Model S34-TSH is an outdoor rated heaters available for use with natural or propane gas. These heaters can be either wall or ceiling mounted. The optional mounting kit allows this heater to be mounted from above keeping the patio deck free and clear. Heat coverage varies depending on the wind exposure on patio. The average spacing between the heaters is 10 feet apart.
Sunpak® comes with a 24 VAC spark ignition system which includes flame monitoring through flame rectification. All Sunpak S34-TSH Heaters require an external 24 VAC source.
As an unvented gas heater, Sunpak® heaters need a continuous supply of fresh air and proper ventilation of combustion gases to operate safely. This heater is not suitable for inside residences and other confined areas where the operational and safety requirements of this heater cannot be met. Refer to heater instructions, available online or from manufacturer for complete information.
The Sunpak® heater design offers a slim profile which works well in a wide variety of patio settings. Sunpak® heaters are available in either black powder coat or a 304 stainless steel finish.

Fully Automatic On/Off Control System
High Efficiency Ceramic Infrared Burner System
Direct Spark Ignition with Auto Re-light & Flame Sensor System
Sunpaks can be ceiling or wall mounted
Available in 25,000 or 34,000 BTU Models or our Dual Stage "TSR" Remote Controlled Units
Available in High Temp Powder Coated Aluminized Steel (Black) or "Series 304" Commercial Grade Stainless Steel
Produced with Pride in Yorba Linda, California, USA
Specifications:
Measurements: 48" L x 8" H x 8" D
Mounting Options: Ceiling or Wall
Approx. Coverage: 12' x 12' with minimal wind and at sea level

---

Clearances:

Horizontal: 24" 17" 13" 48"
30 Deg Max 24" 8" 18" 48"

---

Mounting Angles: From Horizontal to a maximum 30 Degrees
Shipping Weight: S25 & S34 41 Lbs. SST & TSR 51 Lbs.
Fuel Types: Please Specify Propane or Natural Gas. Minimum Inlet Gas Pressure 6.0" W.C. for Natural Gas and 11.0" W.C. For Propane (LP)
Requires: S25 & S34 Require Optional Transformer and Mounting Kit (Included in SST & TSR Deluxe Cartons)
Certifications: CSA (Canadian Standards Association for US & Canada)

---

Available Models:

S25 Black 25,000 BTU S25 Stainless Steel 25,000 BTU 24VAC Off/On Control
S34 Black 34,000 BTU S34 Stainless Steel 34,000 BTU 24VAC Off/On Control
S25 & S34 Requires Mounting Brackets and Transformer.
S25 SST 25,000 BTU Stainless Steel Case/Curved Front Fascias 24VAC Off/On Control
S34 SST 34,000 BTU Stainless Steel Case/Curved Front Fascias 24VAC Off/On Control

Mounting Brackets and transformer included in S25 & S34 SST deluxe cartons.

S34 TSR Dual Stage 25,000 and 34,000 BTU Input

Includes SST Brackets, Power Adapter (120 VAC to 6 VDC), pre-programmed hand held remote and pre-programmed Wireless Wall Mounted "ON-OFF-HI-LO" wall switch included.

---

Warranty: 1 Year Parts & 3 Years Ceramic Burners-Residential
1 Year Commercial Parts Warranty

Country of Origin: USA