Infratech W-Series Heaters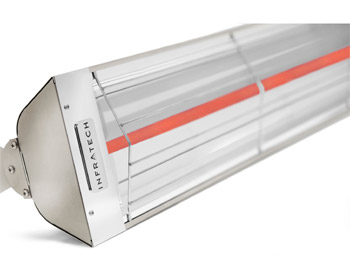 Single Element Heater
The W-Series comes in a variety of sizes, W-40, W-30, W-25, W-20, & W-15. It is important to select the proper W-Series single element heater in order to provide the coverage and intensity necessary for optimum comfort. Some home or business owners may need to use multiple heaters in order to completely cover larger areas. W-Series heaters range from 1,500 to 4,000 watts.
Installation Options
Our low profile heaters are suitable for indoor and outdoor installations, and offer a pleasing, streamlined look due to low clearance requirements. Infratech heaters may be flush mounted into a ceiling using our optional flush mount frame, or may be mounted to a wall, ceiling, or pole mounted.
Our classic W-Series fixtures are ideal for most basic installations
Features include: minimal clearance requirements, recessed mounting options, short standoffs and mounting heights between 7-11 feet
Choose from 1,500-4,000 watt and 120-480 volt capacities
Compatible with solid state controls for larger-scale residential or commercial use
Choose from brushed stainless steel, standard and custom finish options