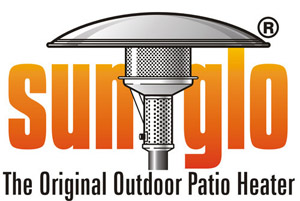 The Sunglo™ model A242 free-standing heater is ideal for open patio designs. This model offers the flexibility to move or remove the heaters as needed. Optional tie-down kit is available to secure heaters to patio deck as required. When used with optional hose kit make sure that hose pathway does not present a trip hazard. Heat coverage varies depending on the wind exposure on patio. The average spacing between these heaters is 12 feet apart.
This heater utilizes a manually operated control system requiring no electrical power. The pilot/safety system provides both convenience and safety.
This heater offers a large deep disk aluminum reflector for maximum comfort, a primary aerated burner for minimal noise, and 100% safety shutoff. The post is available in a variety of colors including black, green and bronze powder coat finishes or 304 stainless steel.
Specifications:
Overall Height 93 inches
Input Rating 50,000 BTU/HR
Fuel Type Natural Gas
Ignition Pilot / Thermocouple
Electrical Required None
Wind Rating 10 mph Horizontal
Nominal Spacing 12 feet
Mounting Free Standing
Manufactured United States
Certification CSA International
Warranty One Year / Parts Only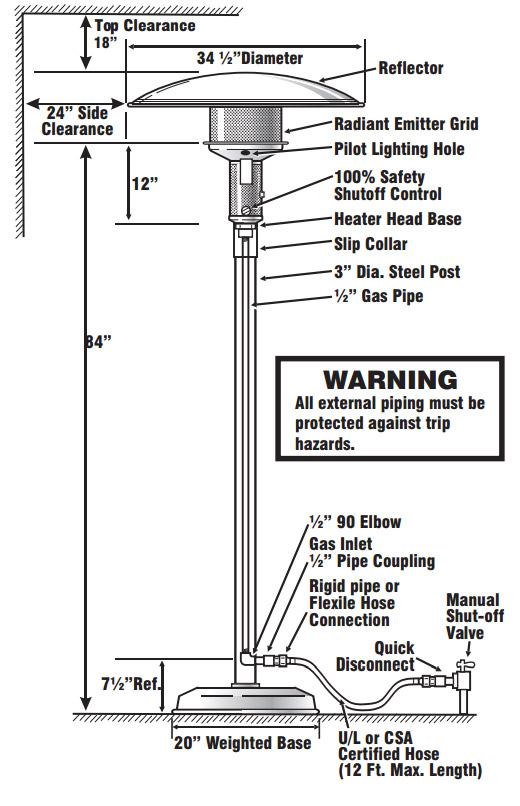 Suggested Specifications:
Heater shall be Sunglo™ model A242 as manufactured by Infrared Dynamics, Inc., Yorba Linda, California. All heaters shall be equipped with a control system for use with natural gas fuel. Each heater shall have passed the ANSI requirements for outdoor heaters.
Reflector shall be of a deep disk circular type mounted on top of heater.
Infrared Radiant Emitter Grid shall be made of perforated stainless steel.
Each heater shall be equipped with a 100% safety shutoff device.
A242 free standing heater models are ideal for situations that require more flexibility. Heaters can be easily be moved about the patio, or completely removed when not needed. Optional quick connect hose system allows heaters to easily be disconnected and stored without the use of tools. In public facilities, a means for attaching these heaters to the deck may be required. A Tie-down Kit is available from the factory.
The required clearance from combustible materials must be maintained on all heaters. In addition the heater must have adequate fresh air and ventilation to operate properly. Make sure you can meet these requirements in making your heater selection.
This specification sheet was designed as a brief summary about this heater. The primary use of this sheet should be for heater selection only. It should not be used as the sole guide in placement and installation of these heaters. Complete installation instructions can be obtained by calling toll free at 1-888-317-5255 and online at www.infradyne.com.