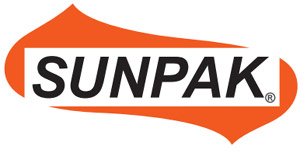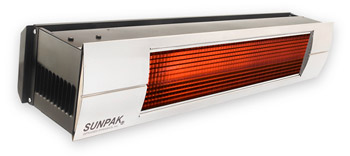 Just because the sun goes down or the weather unexpectedly turns chilly doesn't mean your outdoor dining, entertaining, or outdoor event has to stop. You can comfortably and efficiently warm your outdoor dining and entertaining areas and extend your outdoor entertaining season for several months with our great line-up of Sunpak Patio Heaters. Sunpak Outdoor Infrared patio heaters are produced by Infrared Dynamics, the recognized leader in the outdoor comfort heating industry. Produced with Pride in the USA Since 1966.
Sunpak heaters are simple to operate and use draft free and highly energy efficient infrared radiant energy just like the sun's warming rays. Sunpak heaters warm objects rather than trying to inefficiently heat the air. Each heater will heat about a 12ft x 12ft area depending on wind conditions. Sunpak heaters have been installed world-wide in thousands of premium residential and discerning commercial installations.
Sunpak heaters come with either a single stage output which can be controlled with a standard wall switch (S25 and S34) or dual stage output controlled with a hand held remote or "On-Off-Hi-Low" wireless wall control (Model TSR Only). All Sunpak heaters are CSA Design Certified and are equipped for clean burning, cost effective, and highly efficient Natural Gas or Propane fuels. Please consult your local building codes for proper installation and safety requirements. Sunpak heaters are design certified for outdoor use and outdoor installations only.
Fully Automatic On/Off Control System
High Efficiency Ceramic Infrared Burner System
Direct Spark Ignition with Auto Re-light & Flame Sensor System
Sunpaks can be ceiling or wall mounted
Available in 25,000 or 34,000 BTU Models or our Dual Stage "TSR" Remote Controlled Units
Available in High Temp Powder Coated Aluminized Steel (Black) or "Series 304" Commercial Grade Stainless Steel
Produced with Pride in Yorba Linda, California, USA
Specifications:
Measurements: 48" L x 8" H x 8" D
Mounting Options: Ceiling or Wall
Approx. Coverage: 12' x 12' with minimal wind and at sea level

---

Clearances:

Horizontal: 24" 17" 13" 48"
30 Deg Max 24" 8" 18" 48"

---

Mounting Angles: From Horizontal to a maximum 30 Degrees
Shipping Weight: S25 & S34 41 Lbs. SST & TSR 51 Lbs.
Fuel Types: Please Specify Propane or Natural Gas. Minimum Inlet Gas Pressure 6.0" W.C. for Natural Gas and 11.0" W.C. For Propane (LP)
Requires: S25 & S34 Require Optional Transformer and Mounting Kit (Included in SST & TSR Deluxe Cartons)
Certifications: CSA (Canadian Standards Association for US & Canada)

---

Available Models:

S25 Black 25,000 BTU S25 Stainless Steel 25,000 BTU 24VAC Off/On Control
S34 Black 34,000 BTU S34 Stainless Steel 34,000 BTU 24VAC Off/On Control
S25 & S34 Requires Mounting Brackets and Transformer.
S25 SST 25,000 BTU Stainless Steel Case/Curved Front Fascias 24VAC Off/On Control
S34 SST 34,000 BTU Stainless Steel Case/Curved Front Fascias 24VAC Off/On Control

Mounting Brackets and transformer included in S25 & S34 SST deluxe cartons.

S34 TSR Dual Stage 25,000 and 34,000 BTU Input

Includes SST Brackets, Power Adapter (120 VAC to 6 VDC), pre-programmed hand held remote and pre-programmed Wireless Wall Mounted "ON-OFF-HI-LO" wall switch included.

---

Warranty: 1 Year Parts & 3 Years Ceramic Burners-Residential
1 Year Commercial Parts Warranty

Country of Origin: USA