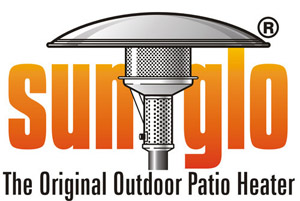 The original Sun Glo patio heater was designed in 1961 by Mr. Edwin J. Cowan, a leading U.S. infrared heating appliance engineer. A unique demand existed in California for decorative, yet practical, gas fired heaters. Mr. Cowan pioneered and developed the circular radiant heater concept primarily for use in country clubs, hotels and restaurants.
Since that time the basic design has been modified for a wide variety of uses. The Sun-Glo heater is now found in fine restaurants, covered and out-door pools, spas, greenhouses, dining areas and, in our self-contained portable version, on residential patios.
Our permanent PSA265 free-standing heater is fired with either natural or propane gas. The new A244 ceiling suspended model is supplied complete with a special sculpted steel frame, and is now available with automatic control for effortless. operation in inaccessable areas.
The visual appeal and warmth of these modern 50,000 BTU/HR heaters are now being enjoyed in more than 10,000 locations throughout the United States, Canada, England, Spain and Mexico.
Sun-Glo heaters are also used in ice protection, frost prevention, warehouse and shop heating. On a rental basis for outdoor banquets, weddings and other social events our Sun-Glo designs are pro-viding unique new business opportunities for our customers in many locations.
WHO WILL BE INTERESTED IN SUN-GLO HEATERS? For NEW construction locations . . . contractors, architects and landscape specialists find this new decorative heating appliance a welcome addition to their projects.
For application to EXISTING restaurants and hotels with partially covered, or outdoor facilities, our various SUN-GLO heater designs provide practical warmth at low cost . . . while creating a convivial atmosphere in extended seating areas.