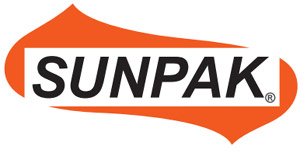 Sunpak heaters are engineered to efficiently provide comforting infrared heat in an outdoor environment. They have been used on outdoor patios across the United States and Canada for over 30 years. With so many years in use in the field, the Sunpak heaters are proven as efficient, reliable workhorses that will provide years of comforting heat to any installation.
The Sunpak® Models S25 & S34 are outdoor rated heaters available for use with natural or propane gas. These heaters can be either wall or ceiling mounted. The optional mounting kit allows this heater to be mounted from above keeping the patio deck free and clear. Heat coverage varies depending on the wind exposure on patio. The average spacing between the heaters is 10 feet apart. The Sunpak® heater design offers a slim profile which works well in a wide variety of patio settings. Sunpak® heaters are available in either black powder coat or a 304 stainless steel finish.
Recently, two additional Sunpak models have been added to the product line-up: the S34 TSH and S34 TSR. The S34 TSH (Two-Stage Hardwired) and S34 TSR (Two-Stage Remote) allow two outputs in one heater, increasing the flexibility and comfort levels.